Harris Law Express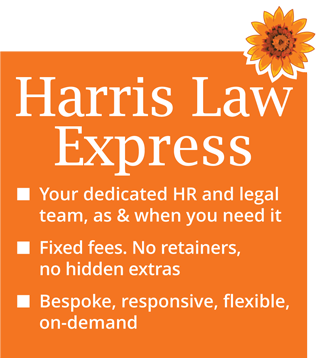 Your HR and Employment Law Support on demand
Fixed fee quotations given for services to be used as and when required.
If you require ad-hoc advice from an employment lawyer and HR professional and require support with a specific project then this service is perfect for you. You will have access to a fully qualified lawyer and HR professional throughout the lifecycle of the project.
You contact us when needed and only pay for work undertaken at an agreed hourly rate.  We provide a free no obligation consultation meeting and provide a fixed fee quotation for the work.
We can provide advice on a range of HR issues including:
Employment Contracts
HR start up – basic contract, job description and offer letter
Creating a range of contracts including Junior, Senior Management, Apprenticeships
Policies and Procedures
Creating individual policies as and when required
Creating policies and procedures bespoke to your business needs
Creating your complete staff handbook – your Company rule book!
Recruitment and Selection
Finding the right candidate for the job
Advertising, interviews and shortlisting
Managing your Staff
Managing Change and Consultation
Absence Management
Handling disciplinary/grievance/capability proceedings from beginning to end
Setting up and helping to implement your performance management systems
Looking at employee engagement within your business to include recognition and reward
Staff training with interactive workshops
Terminations and dismissals
Handling dismissals following disciplinary and capability proceedings
Redundancy support from start to finish
Pre-termination discussions and agreements

"Wendy has very quickly become a very welcome member of our team. Her enthusiasm is infectious and teamed with her expert knowledge on HR she really is an asset to any forward thinking Company. Contact Wendy and see for yourself how she could support you and your staff!"
Get started today by calling us on 01803 861086