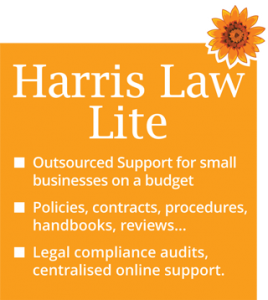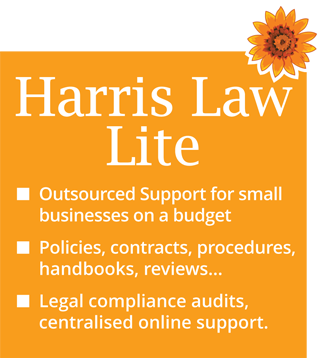 Harris Law Lite
This package is designed for the smaller business who employ between 1 and 10 employees and who require HR and Employment law support on a budget.
We will support you and give you the guidance you need every step of the way. We know what you need to do to comply with your legal obligation so you don't need to worry.
Included in this package …
Business Health Check. We will check that your HR documents are legally compliant and work with you if they are not to make sure that not only are your documents compliant, they are drafted to give you the right protection at the right time.
HR Support. Up to 2 hours per month of on or off-site HR Support to include drafting of HR letters and documents, contracts, policies, attending meetings and providing specialist employment advice wherever necessary.
Online HR Software Support.  This software allows you to centralise your employee information and documents securely, manage holiday bookings and sickness on one easy to use system, upload your HR documents and keep records of every meeting.
Reduced hourly rate. top up available for further support.
TOP UP – your Harris Law Lite package with 4 hours of HR Support – that's ½ a day on-site or off-site HR and Employment Support.
Businesses can choose to add extra services to their monthly HR and Employment Support package as and when required. For example, where your business is undergoing a change in structure and/or a re-organisation and employees need to be consulted, or you may need us to advise and assist with redundancies, or handle a misconduct or grievance issue or even recruitment and selection. Whatever the need this is your opportunity to have top up on support at a reduced rate as and when the need arises.
Get started today by calling us on 07532 231061 or contact us HERE for more information