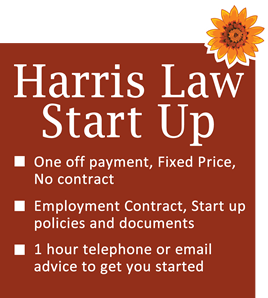 How Harris Law can help
Harris Law Start-up is designed for those who have just started on their business adventure.  Getting assistance from specialist employment lawyers and HR professionals will greatly increase your chances of remaining protected against employee claims. Our unique and specialist legal knowledge means that we can create your contracts and procedures that comply with the law so that you have the protection from the outset.  As part of the Harris Law Start-up we offer one-hour of support with a qualified employment lawyer which can be via telephone, zoom online conferencing or email so we can show you how to implement these contracts, policies and procedures effectively into your business. We can also highlight any areas where your business is at risk too.
The law is clear whether you have one staff member or many, you need to provide all employees with terms and conditions of employment within the first 8 weeks of employment.  From 6th April 2020 these contracts will need to be in place from day one of employment and this is being extended to include workers contracts too.
Policies and procedures are crucial to cover any difficulties you may encounter along the way and an employee handbook is a useful point of reference, a guide and a rule book for your company.   Other start up documents that are crucial include a conditional job offer letter, a job description and new starter/induction checklist and a privacy policy.
We know there is a lot to think about when you are starting a business and budgets can be tight which is why we are offering this fixed price solution to get you started.  Protect your business from the start and have peace of mind from the get go.
For a one off payment of £595 you will receive the following:
A general employment contract template

A suite of start-up policies and procedures for your employee handbook

Privacy Policy

A template conditional job offer letter

A template job description

A new starter/induction checklist

One hour of telephone or an online zoom conference or email advice from our qualified employment lawyer to get you started – (valid for 1 month)
If you would prefer to spread the cost we can set up a monthly payment plan for you, call us on 01803 861086 and we will set it up for you. 
Get started today by calling us on 07532 231061 or contact us HERE for more information